THIS IS A BRAND NEW IBM AC ADAPTOR WHICH HAS BEEN CONVERTED TO A DELL PA3, PA-3 ADAPTOR. ACTUALLY THE DELL PA3 ADAPTOR IS THE EXACT SAME ADAPTOR AS THIS, BUT THIS ONE SAYS IBM ON IT BECAUSE IT WAS BOUGHT BY IBM FROM THE SAME MANUFACTURER THAT DELL BUYS THEIR PA3 ADAPTORS. THIS SHOULD ALSO WORK WITH MANY OTHER BRANDS IF THEY TAKE 19V 2.4A, CENTER POSITIVE. THIS ITEM IS FULLY GUARANTEED AGAINST DOA, NO ADDITIONAL WARRANTY IS AVAILABLE TROUGH US. THE AC CORD IS ALSO INCLUDED, BUT IT IS NOT SHOWN IN PHOTOS BELOW .............$29.99
SOME LAPTOPS REQUIRE A 19V WITH 3.6 AMPS, THIS WILL WORK WITH THOSE LAPTOPS, BUT IT WILL TAKE LONGER TO CHARGE THE BATTERY WHEN THE LAPTOP IS RUNNING. SO YOU SHOULD TURN OFF THE LAPTOP IF YOU WANT TO CHARGE THE BATTERY FASTER. ONLY IF YOUR LAPTOP NEEDS A 3.6 AMP ADAPTOR. IF YOUR LAPTOP TAKES A 2.4 AMPS OR LESSER AC ADAPTOR YOU DON'T HAVE TO DO THAT, BECAUSE YOU WILL HAVE ENOUGH CURRENT TO CHARGE YOUR BATTERY.
IT WORKS WITH THE FOLLOWING LAPTOPS
Dell Inspiron 3000, 3200, 3500, 3700, 7000 Series, AND OTHERS WITH PA-3 AC
HP Pavilion N5000, N5100, N5300, N5400, XH Series
Compaq Armada 2940 Series, AND 2754
Compaq Presario 700, 1000, 1200,1250, 1235,1200XLXXX, 1400, 1456, 1600, 1700, 1800, 2700 Series
Compaq Prosignia 150 Series
INPUT VOLTAGE 100-240V AC
OUTPUT VOLTAGE 19V DC
OUTPUT CURRENT 2.4 A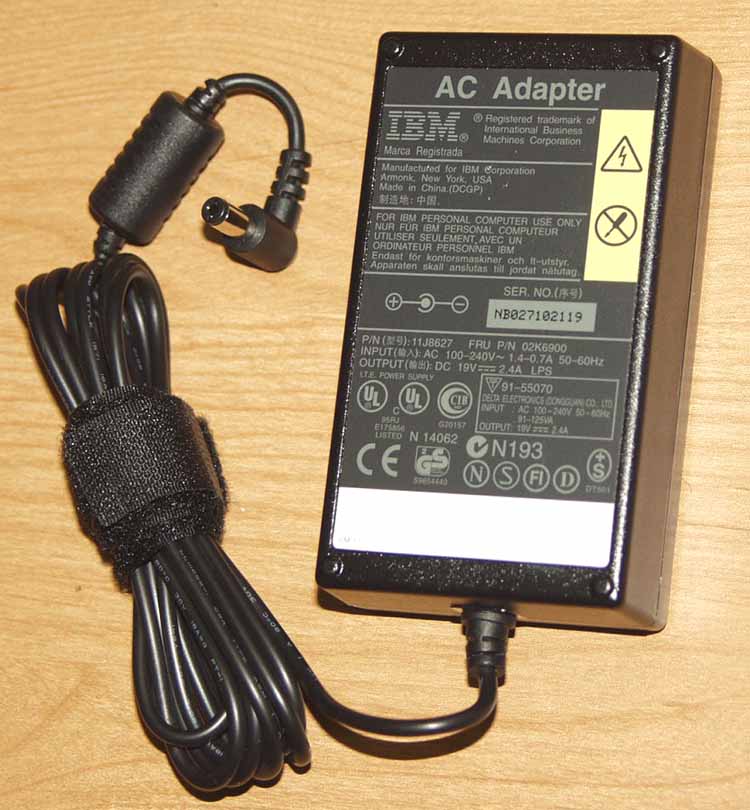 THE PHOTO ABOVE SHOWS THE DC CONNECTOR WHICH COMES WITH THE AC ADAPTOR.
THE AC CABLE THAT GOES TO THE ABOVE PLUG IS INCLUDED