THIS SCREEN IS MADE BY LG PHILIPS FOR MANY DIFFERENT LAPTOPS. IT IS PROFESSIONALLY TESTED AND GUARANTEED NOT TO BE DOA, NO ADDITIONAL WARRANTY IS AVAILABLE. IT HAS NO SCRATCHES, NO BAD PIXELS, AND NO PRESSURE MARKS. IT HAS A BEAUTIFUL BRIGHT BACK LIGHT, AND THE BACK LIGHT IS NOT DIM, OR PINK. I HAVE INCLUDED LARGE PHOTOS INCLUDING PHOTOS OF THE CONNECTOR SO THAT YOU CAN SEE IT IN FULL DETAIL. IF YOU STILL HAVE ANY QUESTION OR CONCERT YOU CAN CONTACT ME BY EMAIL OR PHONE AND MY NUMBER IS PROVIDED BELOW. HERE ARE THE LIST OF SOME COMPATIBLE LAPTOPS.......................................................................$129.99

COMPATIBLE LAPTOPS

NOTE: THIS SCREEN COMES IN TWO DIFFERENT CONNECTOR SIZES THIS IS THE SMALLER SIZE WHICH IS ABOUT 23mm, SOME OF THESE LAPTOPS BELOW TAKE THE LARGE 29mm CONNECTOR SO MAKE SURE TO MEASURE THE CONNECTOR BEFORE YOU BID

Presario 12xl111, Presario 12xl125, Presario 12XL314, Presario 12xl325, Presario 12XL402 , Presario 12XL411, Presario 12XL412, Presario 12XL414, Presario 12XL416, Presario 12XL421 , Presario 12XL426 , Presario 12XL427 , Presario 12XL428 , Presario 12XL430 , Presario 12XL500 , Presario 12XL501, Presario 12XL502, Presario 12XL504, Presario 12XL505, Presario 12XL509, Presario 12XL510, Presario 12XL512, Presario 12XL513, Presario 12XL515, Presario 12XL517, Presario 12XL519, Presario 12XL520, Presario 12XL521, Presario 12XL526, Presario 12XL527, Presario 12XL530, Presario 12XL531 Presario 1200us

CONNECTOR SIZE MAY NOT BE THE SAME SO MEASURE IT BEFORE YOU BID

portege 7200CTE, Portege 7220CT, Portege 7220CTE, Satellite 1800, Satellite 1800 (13), Satellite 1800-S203, Satellite 1800-S204, Satellite 1800-S206, Satellite 1805, Satellite 1805-S154, Satellite 1805-S203, Satellite 1805-S204, Satellite 1805-S205, Satellite 2800, Satellite 2800 (13), Satellite 2800-S201, Satellite 2805-S201.

Gateway Solo 2550

part#'s: 173665-001, 202950-001, 222151-001

all 1400 w 13.3 TFT screens (201563-001 or 221669-001)

all 1700 with 13.3 screens (198699-001)

will also fit many Sony Vaio F and Fx series with 13.3 tft displays

will also fit many Toshiba models as well as HP Pavilion XE models with 13.3 TFT display, make sure to check your #'s located on the back of the LCD to make sure , either LP133X7 or UB133X01, they are the exact same type of display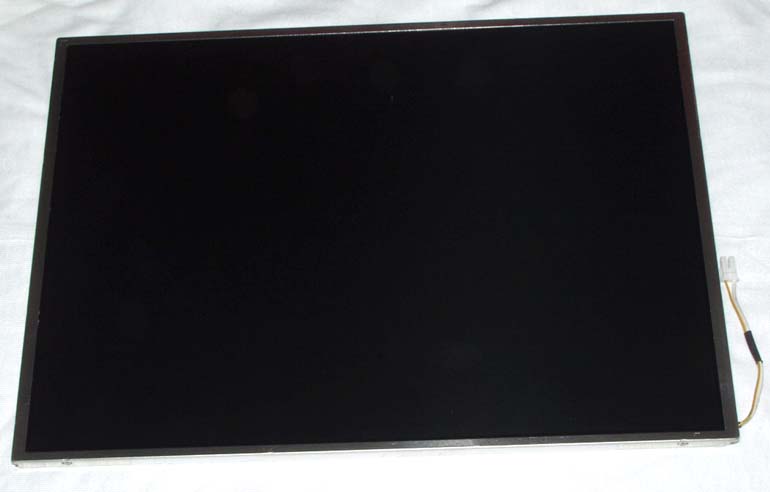 I HAVE MANY OF THESE SCREENS SO THE PICTURE MAY NOT BE THE EXACT SAME ONE YOU WILL BE GETTING, BUT THEY ARE ALL THE SAME.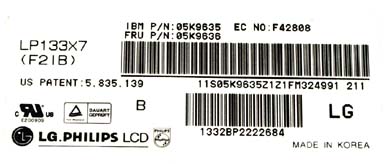 THE ABOVE PHOTOS ILLUSTRATES CLOSE-UP VIEW OF THE VIDEO CONNECTOR
IF YOU NEED HELP INSTALLING THE SCREEN THIS IS IMPORTANT INFORMATION FOR YOU, PLEASE READ
IF YOUR SCREEN IS ALSO A LP133X7 BUT THE CONNECTOR IS NOT THE SAME SIZE, DON'T WORRY WE CAN HELP YOU. WE CAN MODIFY THE CONNECTOR BY INSTALLING YOUR OLD CONNECTOR TO THE NEW SCREEN. THIS REQUIRES A VERY TIME CONSUMING MICRO SOLDERING JOB WHICH WILL COST $100 TO DO. IF YOU WANT TO DO THIS YOU MUST SEND YOUR LAPTOP WITH YOUR OLD SCREEN, AND WE WILL INSTALL IT FOR YOU AND SHIP IT BACK TO YOU FOR THE SAME SHIPPING CHARGE AS THE SCREEN. THIS MEANS YOU ONLY PAY FINAL AUCTION AMOUNT PLUS THE SHIPPING AND HANDLING COSTS, THEN YOU SHIP YOUR LAPTOP WITH AN ADDITIONAL PAYMENT OF $100 FOR MODIFYING THE SCREEN, AND WE WILL SHIP IT BACK TO YOU. IF THE SCREEN DOES NOT NEED MODIFICATION WE INSTALL IT FOR JUST $40 PLUS SHIPPING. TO SEE SOME PHOTOS OF THIS ADVANCED SCREEN SURGERY PLEASE CLICK ON THE LINK BELOW.
http://www.khalids.com/new_page_3.htm