THIS IS A BRAND NEW MICRO PGA2 LAPTOP PROCESSOR, THIS PROCESSOR IS FULLY TESTED AND GUARANTEED NOT TO BE DOA, AND OPTIONAL EXTENDED WARRANTY PLAN IS AVAILABLE BY SQUARE TRADE. THIS IS A GENUINE INTEL PENTIUM III PROCESSOR NOT THE CHEAP CELERON, OR AMD CHIP. IT IS COMPATIBLE WITH HUNDREDS OF LAPTOPS EXAMPLES OF WHICH ARE LISTED BELOW THE PHOTOS. PLEASE VERIFY COMPATIBILITY BEFORE YOU BID. IN SOME RARE CASES THE PROCESSOR IN YOUR LAPTOP IS NOT REMOVABLE, IT IS SOLDERED INTO THE MOTHERBOARD, IN THAT CASE YOU CAN NOT USE THIS PROCESSOR. IF YOU HAVE ANY QUESTION PLEASE EMAIL ME OR EVEN CALL ME BEFORE YOU BID. BE CAREFUL NOT TO FORCE THE OLD ONE OUT OF IT'S SOCKET, YOU MUST USE A SCREW DRIVER AND TURN THE SCREW TO RELEASE THE PROCESSOR THEN YOU CAN EASILY PULL IT OUT. IN SOME CASES THERE IS NO SCREW YOU HAVE TO SLIDE THE UPPER BRACKET OF THE CPU SOCKET TO RELEASE THE CPU. REFER TO YOUR LAPTOPS MANUAL TO MAKE SURE YOU DON'T KILL YOUR MOTHERBOARD. PRICE.....................................................................................................................$49.99
HERE IS A LIST OF SOME COMPATIBLE LAPTOPS BUT IT IS NOT LIMITED TO THESE MODELS
SONY VAIO PCG-FX220
GATEWAY SOLO PIII LAPTOPS , IBM THINKPAD A20, A21, A22, A20M, A21M, A22M, A20E, A21E, A22E, IBM THINKPAD T20, T21, T22, DELL INSPIRON 4000 SERIES, COMPAQ PRESARIO 1800, AND MANY OTHER IBM LAPTOPS, SOME SONY LAPTOPS, TOSHIBA TECRA 8100, COMPAQ, HP, HITACHI, FUJITSU, DELL, NEC, AND MANY OTHER BRANDS.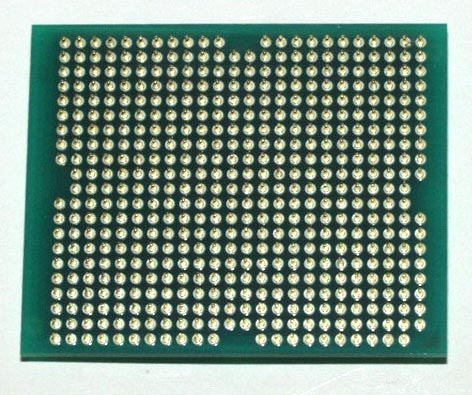 THE PICTURE IS ENLARGED SO YOU CAN SEE ALL THE DETAILS, THE ACTUAL PROCESSOR IS VERY SMALL
THE BEST WAY TO TELL IF THIS WILL FIT IN YOUR LAPTOP IS TO SIMPLY TAKE OUT THE OLD ONE, AND SEE THE SHAPE AND PIN LAYOUT. OF COURSE IF YOU ARE UPGRADING THE PROCESSOR YOU MUST ALSO FIND OUT IF YOUR MOTHERBOARD SUPPORTS HIGHER SPEED PROCESSOR.